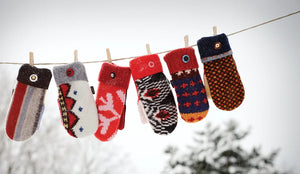 Pioneers of the Upcycled Sweater Movement
Baabaazuzu is an eco-fashion house based in Lake Leelanau, Michigan. Well-known for our sweater mittens, fingerless gloves, cloche hats and men's line, no two pieces of Baabaazuzu are ever alike. Each piece is lovingly handcrafted in the United States with 100% vintage materials, reclaimed and transformed into a beautiful wearable. Every piece is an inspired original. Just like the person who wears it.
Shop Now
How to Shop Baabaazuzu
When you shop our One of a Kind pieces, you will receive the exact design pictured. Once it's gone, it's no longer available.
When you shop our general categories, you select a color, and we'll send you a product that will be as beautiful and in a similar arrangement of color, texture and detail as the sample – however it will not be identical.
And if you simply want to upcycle a beloved woolen you currently own, contact us and we'll make something just for you!
Shop One of a Kind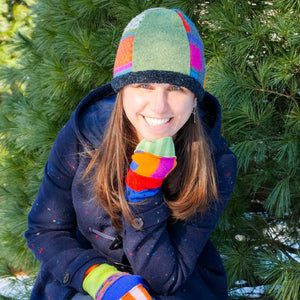 Exclusive One of A Kind Pieces
Visit Us
1006 S. Sawmill Rd.
Lake Leelanau, MI 49653
Monday - Friday 11am - 5pm
Saturday closed
Sunday closed